Welcome to John Hampden Nursery.
'Our Nursery Classes currently have spaces available'
Nursery Admissions Policy
As per our agreement with county we offer up to 52 part-time-equivalent funded places)
John Hampden Nursery provides a warm and welcoming environment where the children can feel safe and secure in a happy setting. You will see staff encouraging relationship building, promoting self-confidence and well-being and working with children allowing them to manage their own behaviour. Every child from Nursery and Reception can recognise the "Hampden Way" and from the beginning of their education with us are taught about kindness, being part of a team and always trying their best.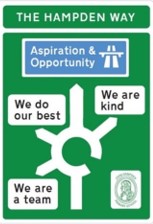 About Us – Meet the Team
Mrs Chaplin-Stephens – Ocean Class Teacher (Monday – Wednesday)
Mrs Davis – Sky Class Teacher (Wednesday – Friday)
Mrs Hawthorne – Ocean and Sky Class Teaching Assistant (Monday – Friday)
About Us – Nursery Sessions and Timings
Children can start at our Nursery the term after their 3rd birthday. Depending on spaces we can offer places in September, January and April. We follow the OCC admissions policy when allocating places to children.
Where possible, children are offered a home visit before starting with us and we encourage children to undertake settling in sessions for a short period to aid transition
At John Hampden Primary School, we currently offer 15 hours funded sessions. 30 hours can be split with other providers, but we have to claim for the full 15 hours if you choose for your child join us.
Option A: Ocean Class
Monday, Tuesday and Wednesday morning (8.45am-11.45am)
Option B: Sky Class
Wednesday afternoon (12pm-3pm), Thursday and Friday
Our full day sessions are 8.45am-3pm.
Each class can accommodate up to 26 children.
About Us – Ofsted
Please see a link to the school's latest Ofsted report below:
https://files.ofsted.gov.uk/v1/file/50192954
Nursery Life – Our Curriculum
We follow the Early Years Foundation Stage (EYFS) Curriculum and plan fun learning opportunities for children to learn through play, alongside adult initiated tasks and activities.
In the EYFS there are 7 areas of learning and development which provide children with a foundation of the skills, knowledge, understanding and attitudes for good progress through school and later life. Children should mostly develop the prime areas first. These are:
Communication and Language;
Physical Development; and
Personal, Social and Emotional Development.
As children grow, the prime areas will help them to develop skills in the specific areas. These are:
Literacy;
Mathematics;
Understanding the World; and
Expressive Arts and Design
We assess children in all 7 of these areas, which are broken down further into 17 individual strands through our observations and interactions with them.
Nursery Life – Key Person
In Nursery children are provided with a key person. A key person is a named member of staff with responsibilities for a small group of children who helps those children in the group feel safe and cared for. This may be a teacher, or a teaching assistant. You will find out more about this once your child has started with us, however we hope you feel comfortable and confident to speak to any member of staff about your child and this is welcomed and encouraged.
Nursery Life – Food and Drink
Snacks: Children receive a free piece of fruit during the day. Our snack time takes place mid-morning and all children are offered fruit and a drink. Children are entitled to free milk up until their fifth birthday.
Drinks: Water is available throughout the day. We ask that children have a named water bottle that comes to school daily – remembering that no fizzy drinks are allowed. We can help children re-fill their bottles if they need to.
Lunch: Children should bring a packed lunch box with them for their full day sessions. On a Wednesday, children will need to have their lunch after their morning session, or before their afternoon session depending which class they attend.
Nursery Life – First Aid
Most members of staff working in our Early Years classrooms hold Paediatric First Aid Training qualifications. If your child has a minor knock, cut or scrape we will fill out an accident slip to send home. If the child injures themselves and we are concerned, we will always contact you.
Nursery Life – What Will my Child Need?
There is no uniform requirement for children attending our Nursery. We suggest sensible and comfortable clothing appropriate for the weather.
Your child will need the following (all named) if they join us at John Hampden Primary School Nursery:
A sensible coat (style will depend on the weather)
A pair of wellies that can stay at school for their half of the week
A sun hat in fine weather (sun cream should be applied at home – school policy recommends the 8 hour cream)
A bag with spare clothes inside (please name the spare clothes)
A water bottle
A lunch box (once attending full time sessions). Children do not need a lunch box on a Wednesday.
Nursery Life – Gallery
Fees and Funding
At John Hampden Primary School, we currently offer 15 hours funded sessions. 30 hours can be split with other providers, but we have to claim for the full 15 hours if you choose for your child join us.
Contact Us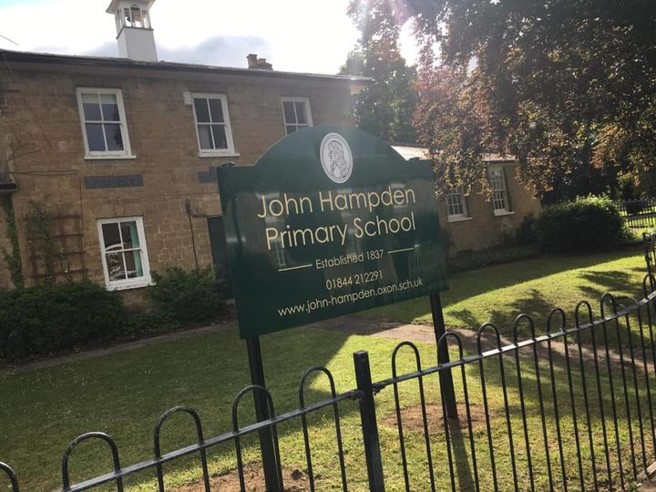 John Hampden Nursery
John Hampden Primary School,
Park Street,
Thame.
OX9 3HU.
01844 212291
office.2591@john-hampden.oxon.sch.uk