PE and Sport Premium
PE Funding 2018 – 19
At John Hampden Primary School, we recognise the contribution of PE to the health and well-being of the children. We believe that an innovative, varied PE curriculum and extra-curricular opportunities have a positive influence on the concentration, attitude and academic achievement of all our children.
Our PE and Sports Premium enables us to continue and extend our provision through improving and updating our PE and games equipment, offering more opportunities to participate in competitive sports competitions and developing our staff to deliver in-house quality PE sessions.
The government provides this additional funding per annum to provide schools with the opportunity to develop and improve the provision of the PE and sport they offer to pupils. The funding is jointly provided by the Departments for Education, Health and Culture, Media and Sport, and sees money going directly to primary school head teachers to spend on improving the quality of sport and PE for all their children.
The table below details our projected spending for the 2018-19 academic year.
Impact of spending is evaluated at the end of each school year (Impact Report for 2017-18 is also below).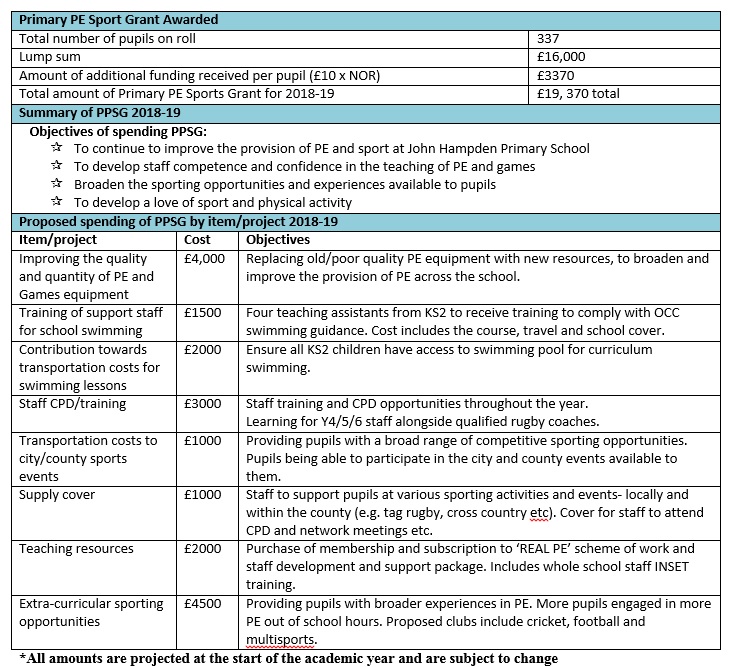 Impact of PE funding 2017-18
We evaluate the impact of the PE and Sports Premium funding as part of our normal school self-evaluation and monitoring arrangements. We look at how well we use our PE funding to improve the quality and breadth of PE and sporting provision, including increasing participation in PE and sport so that all pupils develop healthy lifestyles and reach the performance levels they are capable of.
Measuring the impact of the activities provided with the PE funding can be achieved in different ways. We look at a variety of areas of development such as self-esteem, confidence and the numbers of pupils involved in sporting activities in and out of school.
Since receiving the funding, many beneficial changes have taken place with our Primary pupils in relation to the range and delivery of physical education and sport. Below is a brief impact statement for each of the objectives set.