PE and Sport Premium
Notes on how much funding we received, a full breakdown of how we spent the funding (or will spend the funding), the effect of the premium on pupils' PE and sport participation and attainment, and how we will make sure these improvements sustainable.
PE Funding 2018 – 19
The Government has increased the amount of funding to primary schools from the 2018-19 academic year, to continue to improve the quality, range and amount of sport and PE opportunities for all primary-aged children.
The funding can only be spent on sport and PE provision in schools.
Below are projected details of how we will spend the funding for the 2018-19 academic year.
Impact of spending will be evaluated at the end of the school year.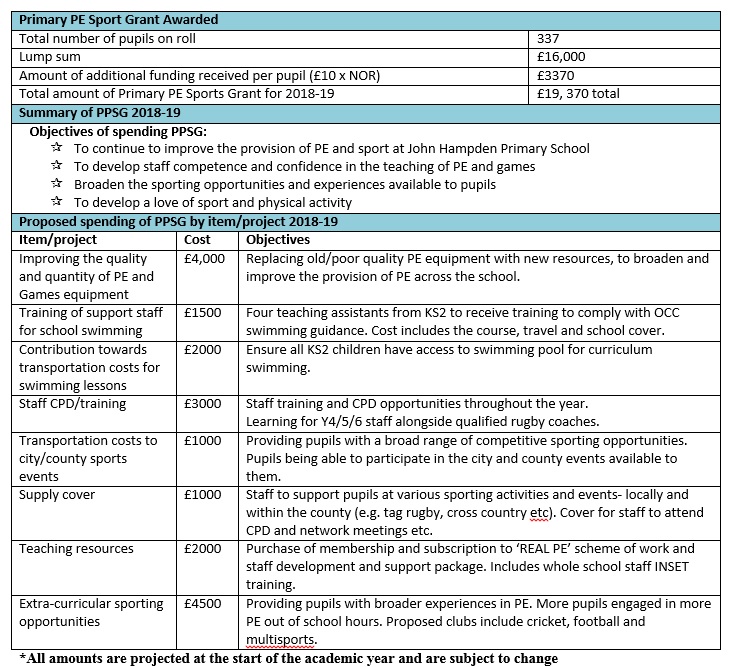 PE Funding
At John Hampden Primary School, we recognise the contribution of PE to the health and well-being of the children. We believe that an innovative, varied PE curriculum and extra-curricular opportunities have a positive influence on the concentration, attitude and academic achievement of all our children.
Our Primary School Sports Funding will enable us to continue and extend our provision through improving the provision of our PE and games equipment, offering more opportunities to participate in competitive sports competitions and developing our staff to deliver in-house quality PE sessions.
What is the Sports Premium?
The government is providing additional funding per annum to provide schools with the opportunity to develop and improve the provision of the PE and sport they offer to pupils. The funding is being jointly provided by the Departments for Education, Health and Culture, Media and Sport, and will see money going directly to primary school head teachers to spend on improving the quality of sport and PE for all their children.
Purpose of the funding
Schools will have to spend the sport funding on improving their provision of PE and sport, but they will have the freedom to choose how they do this.
Possible uses of the funding include:
Hiring specialist PE teachers or qualified sports coaches to work alongside primary teachers
New or additional Change4Life sport clubs
Paying for professional development opportunities in PE/sport
Providing cover to release primary teachers for professional development in PE/sport
Running sport competitions and increasing participation in the School Games
Buying quality assured professional development modules or material for PE/sport
Providing places for pupils on after school sport clubs and residential visits
Impact of PE funding 2017-18
We evaluate the impact of the PE and Sports Premium funding as part of our normal school self-evaluation and monitoring arrangements. We look at how well we use our PE funding to improve the quality and breadth of PE and sporting provision, including increasing participation in PE and sport so that all pupils develop healthy lifestyles and reach the performance levels they are capable of.
Measuring the impact of the activities provided with the PE funding can be achieved in different ways. We look at a variety of areas of development such as self-esteem, confidence and the numbers of pupils involved in sporting activities in and out of school.
Since receiving the funding, many beneficial changes have taken place with our Primary pupils in relation to the range and delivery of physical education and sport. Below is a brief impact statement for each of the objectives set.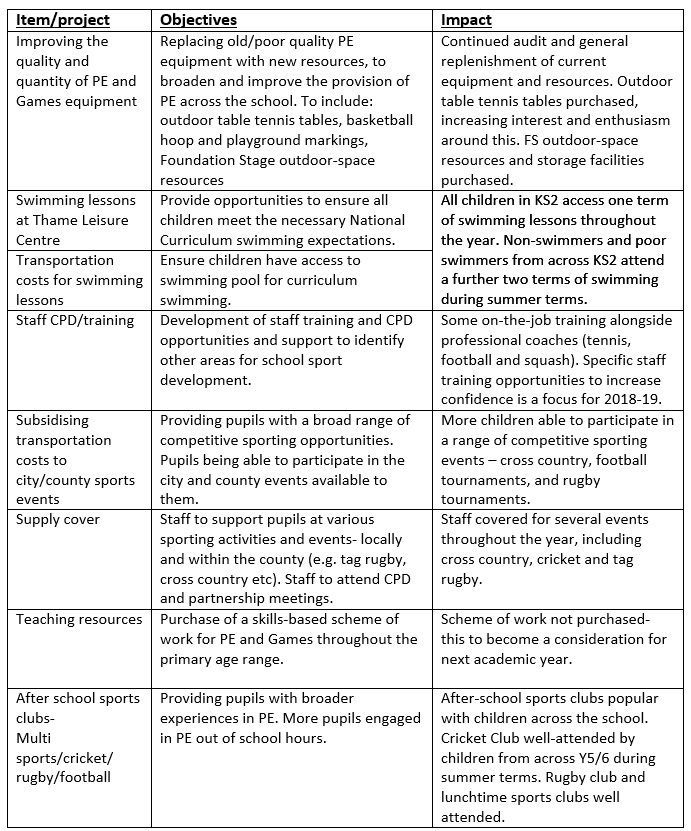 Looking at the impact from 2017-18, we have planned how to spend future PE funding:
Continue to develop staff CPD ensuring PE teaching is at least good.
To continue to update, replace and purchase new PE and games equipment to support and improve the provision and breadth of PE teaching and learning.
Purchase of a skills-based scheme of work for PE and Games throughout the primary age range.
Continue the provision of swimming to meet new National Curriculum requirements (ensuring adequate swimming time for all KS2 pupils)
Continue and further provide after school clubs to encourage even more pupils to participate in extra-curricular sporting activity.
Outdoor sport and games resources to be audited across the school and updated as required
Please see the new proposed spending of the PE grant 2018-19 for a detailed breakdown.
Swimming Report 2017 – 18
The National Curriculum states:
All schools must provide swimming instruction either in key stage 1 or key stage 2.
In particular, pupils should be taught to:
swim competently, confidently and proficiently over a distance of at least 25 metres
use a range of strokes effectively [for example: front crawl, backstroke and breaststroke]
perform safe self-rescue in different water-based situations
Swimming at John Hampden Primary School:
At John Hampden, Key Stage Two pupils will attend a swimming programme for one term per academic year, regardless of their swimming ability. This ensures that all children are given the opportunity to develop and improve their swimming ability during these school years (they work within ability groups alongside three qualified instructors). During Terms 5 and 6, pupils from across Years 5 and 6 who haven't yet achieved their 25m distance swim will attend further swimming lessons. At the end of each term, pupils are re-assessed to help us decide whether they need to continue attending swimming sessions in the following term. All pupils learn about how to keep themselves and others safe, both in and around water. Our instructors deliver specific water safety sessions during the summer term. Specialised self-rescue lessons are not covered.
Assessment of Pupils:
All KS2 pupils attended swimming sessions for half a term during the academic year. Assessment information for Y6 pupils from Autumn 2017 (58 pupils) is set out below. Pupils who did not meet the 25m requirement will be continuing swimming lessons in the summer terms.