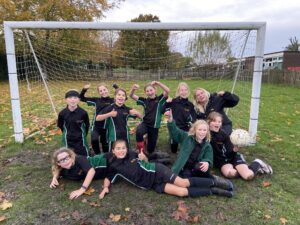 What a fantastic match against St Francis School: A 3-1 Win!
On Tuesday, a team from St Francis School joined us for a game of football. Both teams were ready and raring for the match and couldn't wait to get on the pitch. John Hampden, were well established. The girls, who organised themselves, showed good shape, fantastic skills and positive sportsmanship to both their peers and the opposing side.  The first half was end to end with a few near misses from both teams. Unfortunately for us, St Francis' goalkeeper made some excellent saves.
The second half started in the same way as the first half but then after some great short passes and teamwork, Ava made a break and with a little uncertainty as to whether the ball would cross the line she gave it a final tap and scored.  Shortly afterwards, Lily made a superb run up the wing, crossed the ball and again it was received by Ava who again took a shot and scored!  By now, the pitch was very muddy. Lots of slip and sliding took place, but neither team gave up. John Hampden kept battling- Ava T and Natalie showed excellent defending, Edie was on fire with her determination to get the ball forward as was Matilda. All girls communicated well and it was lovely to see so much encouragement.  Beau fought hard in midfield with Florence at her side. Soon the team was able to move the ball up the very muddy field and again Ava was in the right place at the right time and shot. A HAT-RICK!!!!
As time was ticking and the players were tiring, St Francis went on the attack and were able to get a goal back in the last minutes.
Prior to this victory, they also played against East Oxford Primary School and won 4-1!
This team is great to watch with so much fun, energy and excellent sportsmanship which makes the coach incredibly happy. Well done to both teams.
Ava S and Edie