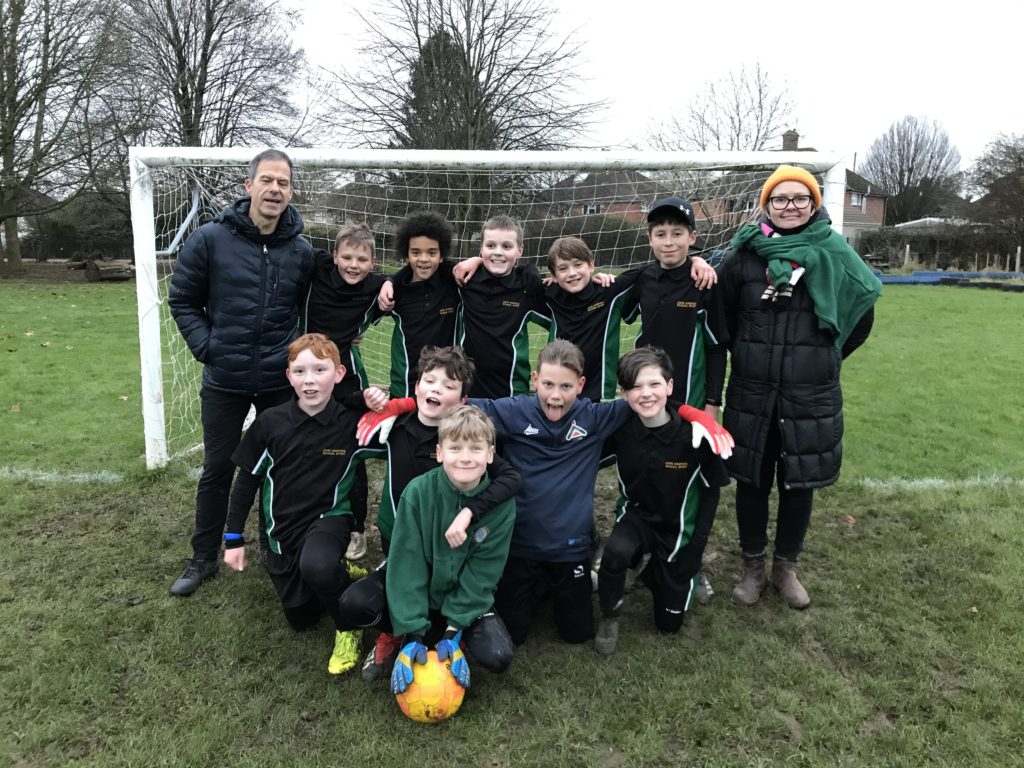 JHS YR6 vs New Marston Primary (Group stage)
Friday 21st Jan 2022
New Marston 0 – 4 John Hampden
Following their previous week's 4-2 victory against St Nicholas Primary in the Oxford FA Manor cup, the JHS boys continued their rampant form with another well-earned away win at New Marston Primary.
They began with a good warm up (fuelled by Jelly Babies) and a very loud shout-out on the pitch of "We are the JHS Nuts" to let a rather alarmed opposition know that they had arrived & meant business.
From the kick-off, the boys were on an absolute mission and immediately camped in the New Marsden half for at least 15 minutes, peppering their goal with shots from well-worked passing moves. The New Marsden keeper was certainly the biggest Y6 boy we had ever come across to date and he did his job well by filling the goal and getting in the way of every shot. Undeterred, the boys kept the pressure on and eventually the deadlock was broken by some Luke H trickery and a goal. Not long after, he scored a second with a fine volley from a cross supplied by Daniel.
Into the second half and the team did not relent (fuelled by more Jelly Babies) and kept up the pressure with tireless running from Luca, Henry and Wilf, our three attack/defence players.
Subs were also introduced with Joe and Theo offering more solid defence. A rare corner for New Marston resulted in a frantic "Hand of God" moment from Luke, who seemed to forget that he wasn't in goal, but the ref waved play on and the danger had passed. With our solid goal keepers (Bailey and Ned) and with Nick organising our defence, we were always going to be hard to break down & so it proved with no more serious attempts on our goal. With all the boys working hard for more, attack after attack resulted in two more goals from Daniel to seal the match.
In the end our fitness, passing & general team spirit shone through.
On to the next round – well done Team JHS!
T Field & S Bridges
Football Club Coaches